Alphabetical Index:
---
Asymmetrical Bar Training (ABT) - A method of training that can enhance balance while improving core strength and rotational power. Essentially, ABT uses a rigid bar with resistance on only one end to create an unbalanced load to the exercise. This triggers the body's natural tendency to counterbalance ("anti-rotate") the force resulting in an increased challenge on the core muscles and spine stabilizers (1).
(1) Article source
Products:
Blogs:
---
Concentric/Eccentric Movement - A concentric movement happens when your muscles contract, while an eccentric movement occurs when the muscle lengthens (1).
(1) Article source
Products:
---
Differential Learning - A method of training that emphasises the exploration of movement patterns. First proposed by Wolfgang Schollhorn and colleagues in 2006, differential learning suggests that practicing a variety of movement solutions in a random manner facilitates the development of movement patterns that can be adapted to novel situations. Indeed, it considers movement variations as the basis of learning rather than movement repetitions (1).
(1) Article source
Products:
---
Dynamic Systems Theory - Studies the behavior of systems that exhibit internal states that evolve over time (i.e., internal dynamics) and how these systems interact with exogenously applied input (1).
(1) Article source
Products:
---
Energy System Training - A training methodology by which people do various levels of work to try to increase the overall ability to complete work. Energy System Training has proven to be effective in building people's ability to continue to output power over longer durations of time via repeatable intervals (1).
(1) Article source
Products:
---
Hypertrophy - An increase and growth of muscle cells. Hypertrophy refers to an increase in muscular size achieved through exercise. When you work out, if you want to tone or improve muscle definition, lifting weights is the most common way to increase hypertrophy (1).
(1) Article source
Products:
---
Kinesthetic Awareness - How we sense our body and the way it moves (1).
(1) Article source
Products:
---
Kinetic Chain - The kinetic chain are segments of the body working together to create movement. The kinetic chain is how these 4 links or segments (the hips, torso, arms, and hands) interact with each other to create power and an efficient swing (1).
(1) Article source
Products:
---
Law of Inertia - Also called Newton's first law, postulate in physics that, if a body is at rest or moving at a constant speed in a straight line, it will remain at rest or keep moving in a straight line at constant speed unless it is acted upon by a force (1).
(1) Article source
Products:
---
Myelination - The change or maturation of certain nerve cells whereby a layer of myelin forms around the axons which allows the nerve impulses to travel faster (1).
(1) Article source
Products:
---
Myofascial Release - An alternative medicine therapy claimed to be useful for treating skeletal muscle immobility and pain by relaxing contracted muscles, improving blood and lymphatic circulation, and stimulating the stretch reflex in muscles (1).
(1) Article source
Products:
---
Overload/Underload Training - Using weight-modified implements that are otherwise identical to those used during competition. The weights of these modified tools weigh both more and less than the standard competitive weight. Such tools allow athletes to train more precisely for their sport (1).
(1) Article source
Products:
---
Overspeed Training - An effective method to recruit new muscle tissue to enhance performance when an athlete accelerates their body, or parts of their body, at speeds greater than regular competitive speeds. An overspeed training session typically has the athlete performing at a rate of 8% to 13% faster than the athlete's fastest speed. As the athlete is training at the higher speed new muscle motor units are engage within the same muscle tissue, building and developing speed and agility (1).
(1) Article source
Products:
---
Perturbation - A deviation of a system, moving object, or process from its regular or normal state or path, caused by an outside influence (1).
(1) Article source
Products:
---
Planes of Motion - The three planes of motion are the sagittal, coronal (or frontal) and transverse planes. The Sagittal Plane cuts the body into left and right halves (forward and backward movements). The Coronal (or Frontal Plane) cuts the body into front and back halves (side-to-side movements). The Transverse Plane cuts the body into top and bottom halves (twisting movements) (1).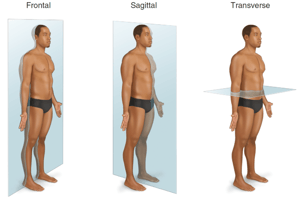 (1)
Products:
---
Pronation - Rotation of the hand and forearm so that the palm faces backwards or downwards (1).
(1) Article source
Products:
---
Proprioception - The process in which nerve endings in the muscles and joints are stimulated (= made to operate) when the body moves, so that a person is aware of their body's position (1).
(1) Article source
Products:
---
Synergistically - Interactively or cooperatively so that each element or party increases the effect of the other (1).
(1) Article source
Products: